Shoring
The purpose of temporary earth-retaining structures is to permit the safe excavation of a site into which a permanent structure can be built.  As site and soil conditions on each job vary, so do the solutions to efficient cost effective Support of Excavation systems.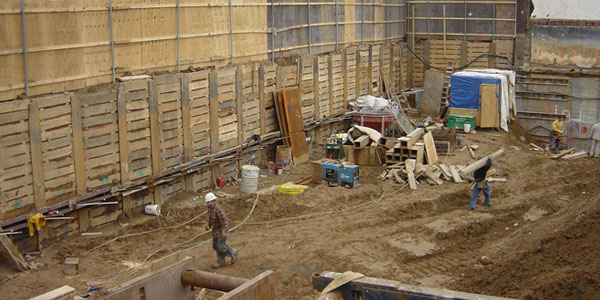 Support of Excavation for New College in Building in Queens.
Typical forms and components of the Support of Excavation and Shoring process which we specialize in at Bronzino Engineer, P.C are:
H-Pile, Mini-Caisson and Pipe Pile Soldier Beam & Timber Lagging
Interlocking Steel Sheet Piles
UST Excavations
Marine Bulkheading
Secant Pile Walls
Tangent Pile Walls
Soil Mixing Walls
Shotcrete Walls
Vertical Wood Sheeting
Soil Anchor / Tieback / Rock Anchor / Raker Type Lateral Support
Approach Pit Excavation
Expert Testimony in Foundation Underpinning
New York City Transit Authority Approvals
NYC DOB Excavation Unit Audits
Adjacent Structure Monitoring
Consulting / Design Review Services
It should be noted that each Support of Excavation project is unique and should be designed by a professional engineer. Bronzino Engineering, P.C. has over 10 years experience in the Design and Special Inspection Services associated with Support of Excavation and Shoring throughout the New York City Area, and we can proved the engineering necessary for your project.
Please contact us at 631.751.8299 to discuss any required Support of Excavation needs for your project.
Based in Setauket, New York, Bronzino Engineering, P.C. has been instrumental in projects throughout the New York City area and Long Island.
NYPA Facility, Brooklyn
420 West St., Manhattan
USTA Flushing Meadows, Queens
Bronx School for Artists, Bronx
Winthrop Addition, Mineola

SEE FULL PROJECT LIST

Call 631.751.8299 for more info.
Since 2003, Bronzino Engineering, P.C. has been providing the following services to developers and contractors: